How Many Days Calculator - Monday to Sunday
Monday is considered by most countries as the first day of the work week, while Friday marks the end it. There are times that you just want to know how many Monday, Tuesday, Wednesday, Thursday, Friday, Saturday and Sunday are there this month, next month, or this year. This How Many Days Calculator will help you figure that out.
How to Use the How Many Days Calculator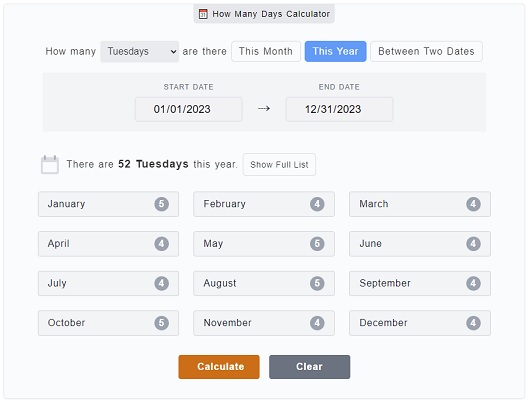 Most people do their entire week's game plan during Monday, the things to do, the appointments and all other stuff. Some people also just chills on Saturday then go to church during Sunday. For whatever reason you might have that the you want to know how many Mondays, Tuesdays, Wednesdays, Thursdays, Fridays, Saturdays and Sundays, this calculator can assist you with that.
Step 1

The first thing you may do is to switch days by selecting Mondays or Tuesdays and more by clicking on the Days Dropdown Menu with a default value of Mondays.

Step 2

There's are quick date options on the calculator like This Month or This Year. You can click that to give you the timeframe for a month or year. However, you can also customize the Start Date and End Date by clicking on the Between Two Dates button.

Step 3

After you have set up your desired inputs, you can just click on Calculate button and the list of days of your selection (Monday, Tuesday, Wednesday, Thursday, Friday, Saturday or Sunday) will be displayed at the bottom of the calculator. You can choose to display or hide it by clicking on the Hide Full List or Display Full List button.
See also: 📅 Timesheet Calculator